Check out our improved Cooking Sauces!
6/23/2010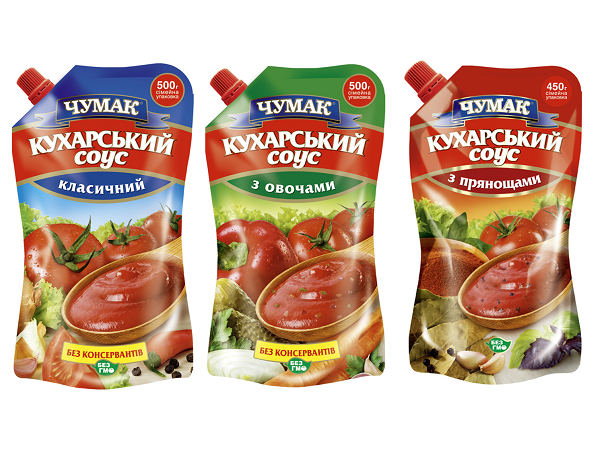 Our Cooking Sauces, favorites of many people, are 'changing the dress'. Their package design became brighter and more informative – each sauce package now shows the ingredients and contains description of each sauce's taste specifics with recommendations about the dishes which this or that sauce comes the best with.
The Cooking Sauces are made from selected Kherson vegetables and natural spices, and do not contain preservatives, colorants, and GMO. They will become indispensable helpers in cooking soups and all kinds of garnishes.
The Classic Cooking Sauce, made from the best Kherson tomatoes using classic recipe, represents a universal solution for cooking soups and main dishes. It excellently conveys the taste of stewed and fried meat, vegetable stew, cabbage rolls, goulash, and is ideal for cooking of real Ukrainian borscht.
The Cooking Sauce with Vegetables, in which the best Kherson tomatoes blend together with pickle and bell pepper bits, will attach originality to light appetizers and various garnishes. This sauce will become the final accord in cooking poultry, fish, potato and rice dishes, and will become an excellent addition to various soups, for example solyanka.
Thanks to the combination of juicy Kherson tomatoes and an aromatic pepper, basil, and oregano mix, the Cooking Sauce with Spices will add spiciness to any work of culinary art. This sauce is simply indispensable when cooking kharcho (Georgian soup), and is ideal with meat shish kebab, pizza, pasta, vegetables, and pilaf.