Chumak opens the picnic season
6/4/2010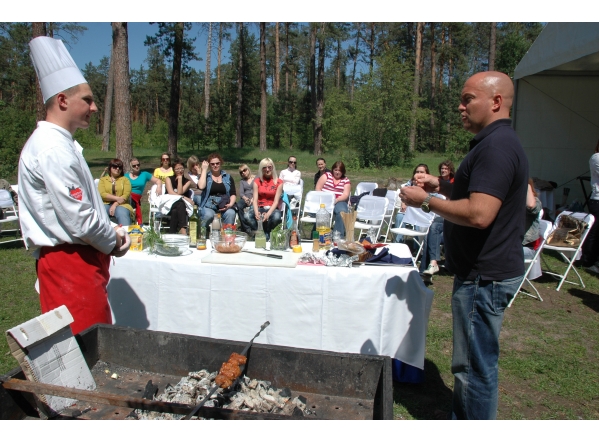 On 27 May Chumak, together with two dozens of editors from Ukrainian mass media held a symbolic picnic season opening ceremony. The company organized a rest day in a forest close to Kyiv, which featured shish kebab, active games, and funny contests.
"The idea to organize this even came to us out of the blue. For many years our company produces natural ketchups, mayonnaises, and other sauces which are excellent with shish kebab. So we thought: why don't we all together try our products in the most natural conditions – at a picnic?" – says Chumak Director for Corporate Development Johan Bodén, one of the company's founders.
Interestingly enough, during the picnic Mr. Bodén himself gave several lessons on cooking shish kebab. The highlight of the day was a master class from Holiday Service Restaurant designer chef Aleksandr Avramishin. The expert not only told the guests about the secrets of cooking this dish but personally showed them how to marinate and grill shish kebab of three kinds: meat, poultry, and fish. The guests could savor all these delicacies dressed with ChumakTM ketchups and sauces. Magazine editors, most of whom were women, truly appreciated the chef's skills and bombarded him with questions. And some ladies even shared their own shish kebab cooking secrets.
An entertainment program during which picnic guests could win valuable prizes became an excellent addition to the master class from the renowned chef. Some guests competed in intellectual contests like quiz, some created artistic masterpieces using cardboard, ketchup, and mayonnaise, while the others could not deny themselves a pleasure of fighting a tomato battle by throwing tomatoes at their colleagues. Also, many guests have engaged in more traditional pastimes for picnic: badminton, throwing flying discs, and playing card games.
The picnic ended with a ceremonial toast from Johan Bodén, who emphasized the need to spend more time outdoors and find time for rest despite workload, deadlines, circulation, and other elements of editor's routine life. At the end of the event the picnic guests received baskets with Chumak products which are excellent with all kinds of shish kebab, because they were made with great love.