Chumak CJSC presents the latest product: spaghetti sauces!
5/12/2010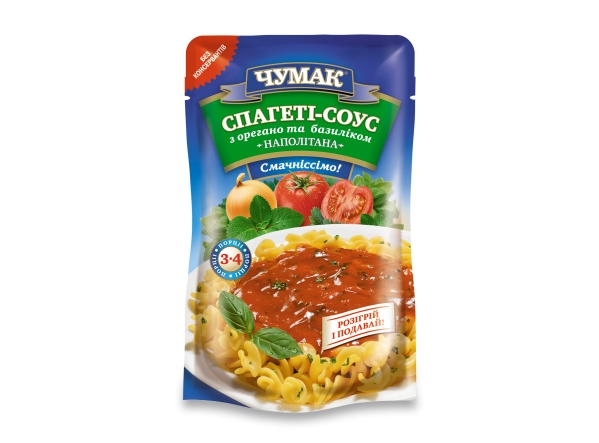 Soon, new Chumak spaghetti sauces will be available in stores. Four special sauces: Italian Bolognese, Oregano and Basil Napolitana, Mushroom Boscaiola, and Hot Pepper Arrabbiata will surelyplease all pasta lovers. These sauces will make your life much easier – making sauce at home takes a lot of time and efforts. New ChumakTM sauces are very easy to use – all you have to do is simply to open and heat them up; and besides, they contain no preservatives. The four sauces with different flavors will improve any dish, adding zest to traditional homemade pastas. ll sauces come in the packaging which contains information about sauce ingredients and the best serving method (for example, we recommend serving them hot).
"Bolognese spaghetti sauce" is a popular Italian sauce originating from the province of Bologna, hence its name. This sauce imparts bright taste of ripe tomatoes and Italian spices to your dishes.According to a classic recipe, you can add minced meat to the sauce to make your pasta truly delicious.
"Oregano and Basil Napolitana" was invented by the Napoletani who love pasta so much that they eat it every day. What makes its taste special is the adding of oregano and basil, two of the most popular spices in Italy, to tomatoes.
"Boscaiola sauce" is famous for its delicious taste of mushrooms and juicy tomatoes. A famous Italian pasta whose name may be translated as 'Forester's Pasta' was named after this sauce.
"Hot Pepper Arrabbiata sauce" adds spice to your dishes. And for good reason: Arrabbiata can be translated from Italian as 'spiteful', and contains chili pepper.
One souce pack will be enough for a family of three or four, and the sauces are recommended to heat up before serving. All sauces are very good with ChumakTM macaroni.
About the company:
On 26 January 2010 Chumak CJSC opened a new macaroni factory in Kakhovka, Kherson Oblast. This factory will produce macaronis which enjoy the greatest demand among Ukrainian consumers: 'Tubes', 'Feathers', 'Spirals', 'Turtles', 'Vermicelli', 'Elbows'. This factory will also produce our new spaghetti sauces.
Chumak was founded in 1996 by the two Swedish entrepreneurs Carl Sturén and Johan Bodén. Chumak is the largest food processing company in Ukraine specializing in processing and sales of high-quality agricultural products grown in the Kherson Oblast. Among its products are ketchup, mayonnaise, sauces, canned vegetables, tomato paste, and macaronis marketed under Chumak trademark.
Today, Chumak brand is one of the most popular in FMCG segment in Ukraine. The company boasts modern production facilities and logistics center in Kakhovka, Kherson Oblast and has offices in Kyiv, Minsk, and Moscow. Currently, Chumak employs approximately 1,000 people.
Contact person:
Svitlana Lyubchenko