New development of Chumak, CJSC – Provencal mayonnaise - has been already exposed on the shelves of the stores
4/22/2010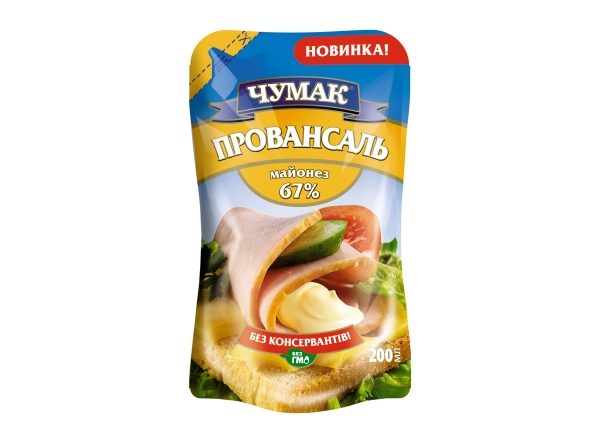 ChumakTM keeps expanding its range. A new product has been introduced in the mayonnaise line: the stores now offer "Provencal" - a most popular brand of mayonnaise. This new brand of mayonnaise ensures a delicious taste of both traditional and newly developed dishes.
"Provencal" is a classical mayonnaise having spicy tones in its taste and containing 67 % of fat. Its formula has been developed on the basis of traditional recipes of Provencal cooks. It is such mayonnaise what the true mistress uses in preparing of such dishes of universal appeal as "Olivier" or "Dressed Herring" and many other dishes without which no traditional Ukrainian table can be managed. Moreover, "Provencal" mayonnaise contains no GMO.
Other kinds of mayonnaise will be also brought to date: they will be supplied in a newly designed packaging. Apart of new design, the new packaging provides an important aid to consumers in choosing right product: it shows information about the flavour and composition of the product, content of fat and method of manufacture in the maximum convenient form. All Chumak mayonnaises have soft and delicate flavour owing to the innovative process of pasteurisation that makes it possible to remove the unnecessary additives (GMO and preserving agents) deteriorating any product. Products tasting the best with a particular kind of mayonnaise are also listed on the packaging.
E.g., the main secret of "Light" mayonnaise lies in that it suits perfectly light vegetable salads containing no excessive calories, and therefore, it is recommended to those who take care of his/her body shape. If you would like to make a dish sticking to the memory for its taste, you have to choose "Apetytnyi" mayonnaise. Its tenderness and unique sweetish flavour will make any dish really perfect. "Spravzhniy" mayonnaise is a product having proven its high quality! Owing to its thickness, it may garnish any dish and provide a nice decoration of canapés and sandwiches. It is not spreading readily and has delicious flavour, therefore, it is perfectly suitable for baking and preparing any salads. The composition of this mayonnaise has been changed recently; now, it contains 72 % of fat.
ChumakTM mayonnaises will make your meals always tasty and your family – always satisfied and glad.
Reference information:
Chumak, CJSC, was established in 1996 by Swedish businessmen Karl Sturen and Johann Boden. Chumak is a biggest national manufacturer of food specialised in processing and sale of high quality products cropped in Kherson Oblast. The Company manufactures ketchups, mayonnaises, sauces, canned vegetables, tomato paste and pasta under Chumak trademark.
Today, Chumak brand is a most popular brand in FMCG segment in Ukraine. The Company owns state-of-the-art production facilities and a logistics centre in Kakhovka (in Kherson Oblast) and offices in Kyiv, Minsk and Moscow. More than 1000 employees are working in Chumak.
In 2010, Chumak, CJSC, commissioned a new factory manufacturing pasta in Kakhovka (Kherson Oblast). The factory manufactures most popular (among Ukrainian consumers) pasta: "Pipe", "Penne", "Fusilli", "Conchiglie", "Vermicelli" and "Rigatonni". This factory will also manufacture new spaghetti sauces.
Contact person:
Svetlana Liubchenko